Post by AYAME AKATSUKI on Sept 10, 2010 16:18:04 GMT -5
Ayame Akatsuki
[/color][/font]
"I'm not really sure who I am at all"[/font]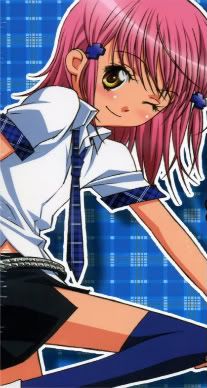 [/center]
"this is what the birth certificate says. the basics, of course."
[/font][/center]
FULL NAME.
Ayame Akatsuki
NICKNAMES.
n/a
AGE.
18
DATE OF BIRTH.
January 7
SEXUAL ORIENTATION.
Heterosexual
MEMBER GROUP.
Civilian
JOB.
Ayame is a student, but she is also the owner of a small flower shop.
CANON OR ORIGNAL.
Original
[/font]
"i'm sexy, i'm cute. the appearance is everything."
[/font][/center]
HEIGHT.
5'2
WEIGHT.
145pd
BODY TYPE.
>>Skinny<<
Ayame is really skinny. She doesn't have all that much muscle on her and has really no need for it. She has never needed to fight for anything before. She isn't completely weak however, she does have a bit of karate under her belt but not enough to win a real fight against hitman.
HAIR COLOR.
Pink
EYE COLOR.
Yellow
FLAME TYPE.
n/a
RING.
n/a
DISTINGUISHING FEATURES.
>>Hair and Eye Color<<
The only thing that is really distinguishing about the girl is that her hair and her eye color isn't really normal. She has pink hair that is always kept up into barrettes that are normally different shapes. She is also known for her strange golden eye color.
PLAY BY.
Amu Hinamori -- Shugo Chara
[/font]
"some say it's what's on the inside, counts."
[/font][/center]
LIKES.
>>AYAME<<


watching others

learning new things

drawing

quiet

trying her best

getting to know others

quiet

the warm

Kenjiro
>>AYA<<


Fighting

Ignoring others

Doing whatever she wants

Showing her pride

Being left alone

Music

Her Writing

Helping others (when she wants to)

The cold

DISLIKES.
>>AYAME<<


being teased

being alone

people ignoring her

rude people

being pushed around

watching others fail

always watching

not having the strength to do anything herself

that she has no courage

>>AYA<<


Being tricked

People telling her she can't do anything

Being looked down upon because of her gender

Failing

Disappointing those close to her

Feeling useless

Dishonest people

Being stood up

Cruelty to the weak
STRENGTHS.
>>AYAME<<


Able to pick up on others moods

Is kind to everyone

will tell you the truth

Will help anyone no mater who you are

>>Aya<<


Stands up for herself

Won't lie

Isn't afraid of getting dirty

knowledge of Karate

WEAKNESSES.
>>AYAME<<


Shy

Can't say how she feels

Is afraid of others judgment

Doesn't trust herself.

>>AYA<<


Doesn't really on others

Bad Trusting skills

Doesn't know how to admit her love interests

Doesn't know how to be a girl

HABITS/QUIRKS.
>>AYAME<<


Bites her nails

Twittles her thumbs.

Puts a finger on her chin when she is thinking

Tends to stutter

>>AYA<<


Digs her nails into her palm when irritated

Will have random spazes when talking about girl things

Will drop everything and write something when she gets inspiration

Will randomly start singing songs when bored

FEARS.
>>AYAME<<


Never believing in herself

Never admitting her feelings

Always being shy

>>AYA<<


Not really knowing love

Being looked down on because of her gender forever

Losing her notebook and her love of music

SECRETS.
>>AYAME<<


Really wants to be a tomboy at heart

Likes Kenji but afraid to admit it

Draws pictures of Kenji and Aly to much

>>AYA<<


Sometimes wants to be a girly girl

Likes Aly but doesn't know how to express it

Likes girl clothes but pretends to hate it

HITMAN ABILITY.
n/a
BOX ANIMAL.
n/a
BOX WEAPON.
n/a
FULL PERSONALITY.
>>AYAME<<
Ayame is a rather shy girl from the getgo. She isn't the type to really tell anyone how she feels or what she is thinking about. It isn't because she doesn't like people though. It is because she simply doesn't know how to act around others. Ayame is to the point that she will watch people from afar always wondering what it would be like if she could be more assertive with herself and how different she would be if she could be assertive. Ayame is constantly dreaming about how she wants her feelings to be known and usually does the dreaming through her sketches. Though she isn't the best drawer, Ayame will put her feelings down on paper through her art. It is one of her ways of showing her feelings. She is flipped to her alter ego when she is angered by something.
>>AYA<<
Aya is in one word assertive. She has nothing against getting ruff and dirty with the guys. She would honestly much rather be fighting and being a guy than be at home being a girl. She is a tomboy that knows how to stand up for herself and tells others exactly how she feels. She isn't scared by much and will freely through herself into danger just to feel the wind in her face you could say. She hates when people are dishonest with her, or when others criticize her for being a female. That is probably one of the biggest pet peeves of hers. Though she is a girl she will freely beat you up if you say anything about her being a girl and acting like a guy. However, because of her personality she isn't really the best with trusting other or admitting small things like her feelings of desire when it comes to love. She is flipped back to Ayame when she is fearful.
[/font]
"history starts now, or when i was born."
[/font][/center]
PARENTS.
Yuki Akatsuki, 36, mother, Alive
SIBLINGS.
n/a
BIRTHPLACE.
Namimori
SIGNIFICANT OTHERS.
n/a
CHILDREN.
n/a
PETS.
n/a
FULL HISTORY.
Ayame was born on January 7th to her mother Yuki Akatsuki. Her father however, was no where to be found. Ayame grew up as a single child in the care of her mother Yuki. Her mother often told her stories of her father and how much he had meant to her. It was however, whenever Ayame would ask about her father that her mother would choke up and walk away. Ayame never really got any information out of her mother on the subject and eventually stopped asking.
She grew up a rather normal and peaceful life. Went to Namimori middle school and graduated. It wasn't really anything out of the normal. She was voted "most likely to become an actress" in her last year. Many people flocked around her. Ayame had always been nice to people so she had always thought nothing of it. However, because of her high status, it easily made her a target. Other girls grew jealous of her. One day they eventually caught the girl alone after school. Ayame had never really had anyone hate her before so she thought nothing of it.
It was when they jumped her things went sour. She was slammed against the side of the school building. "HOW COME THE BOYS ONLY LIKE YOU!" they screamed at her. Ayame was scared yes, but above all else she was mad. She had done nothing to these girls to have them hate her. She was mad and it showed on her face. When she was released enough to talk she yelled at them with everything she had.
"I DID NOTHING TO YOU! LEAVE ME ALONE!"
It would be this statement that would change the young girl.
As soon as the statement was yelled, something changed within the girl. She felt different before she felt herself slip away. In her place was Aya, an alter reality version of her own true heart. The girl was nothing like Ayame and in some ways she was. Aya literally destroyed the girls who had teased and picked on Ayame. But now Aya was left out to wonder in Ayame's own body. Would Ayame ever return to her own self? Fortunately she would. As the day seemed to come to a close Aya would lay eyes on someone, someone that would change her own solitary heart and make her fear for her feelings.
She didn't know who it was a rather cute looking boy with striking blue hair
lol, wanna guess?
. It would be that fear that would change Aya, she once again became Ayame. Since that fated day whenever Ayame get mad Aya will appear to her rescue. Whenever Aya becomes afraid of anything Ayame will once again appear.
Now Ayame is in high school her senior year. She has now opened her own flower shop giving it the families name, though she is studying to be an actress later on she loves her flower arranging and does it during her spare time. However, she is now starting to find a sudden interest in another senior who has caught her eye. A boy by the name of Kenjiro.
[/font]
"it's time to meet the puppeteer."
[/font][/center]
YOUR NAME.
Neme
YOUR AGE.
18
YEARS OF EXPERIENCE.
4-5 years
CONTACT INFO.
pm
SECRET PHRASE.
Hayato
MEMBER TITLE.
The
changing
FLOWER
The [sub][color=mediumslateblue]changing[/color][/sub] FLOWER
ANYTHING ELSE.
FIRST CIVILIAN!~ WOOH
ROLEPLAY SAMPLE.
Check Kenji
[/font]
---
this application template was made by abi, also known as
buildings and mountains. on CAUTION! the lyrics for the
dividers are from the lovely song bruises by jack's mannequin.
[/color][/font][/center]