Post by SHIKI HAKARU on Nov 29, 2010 1:59:19 GMT -5
Shiki Hakaru
[/color][/font]
"Normally, people like me are supposed to have more, you know, to do.. well.. I prefer not to do things."[/font]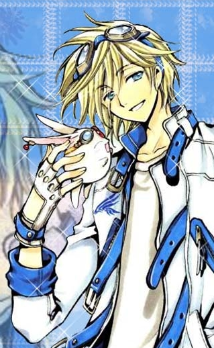 [/center]
"this is what the birth certificate says. the basics, of course."
[/font][/center]
FULL NAME.
Shiki Hakaru
NICKNAMES.
Lazy, Bumb, Slacker.. (the list goes on)
AGE.
23
DATE OF BIRTH.
December 3rd
SEXUAL ORIENTATION.
Unknown
MEMBER GROUP.
Other/ Tutor for Hire
JOB.
Tutor for Hire
CANON OR ORIGNAL.
Original
[/font]
"i'm sexy, i'm cute. the appearance is everything."
[/font][/center]
HEIGHT.
6'2
WEIGHT.
157 pds
BODY TYPE.
Slender
HAIR COLOR.
Golden Blonde
EYE COLOR.
Ice Blue
FLAME TYPE.
Main-- Lightning
Sub-- Storm
Sub-- Rain
RING.

Kavio Ring-- The main ring he wears that control's his Lightning flames. Though because of how powerful his lightning flames are, the Kavio ring, is actually two rings melted together. This ring is worn on his left hand middle finger.

Dawn Ring-- A sub ring that is worn on his right hand pinky. This ring was given to him by his own master, seeing that the boy had no rings to control his Storm Flames, this ring gives Shiki the ability to control the harsh storm flame.

Terrance Ring-- A sub ring that is worn on his right hand pointer finger. This ring was taken from a opponent Shiki once fought. The man claimed the ring as his own when he challenged his opponent and the other man lost. Now it is used as Shiki's only way of calling upon his final attribute Rain.

DISTINGUISHING FEATURES.
Other than the fact that the man always wears heavy coats even when it is scorching hot outside. Shiki is also left handed.
PLAY BY.
Fai D. Fourite -- Tsubasa: Reservoir Chronicles
[/font]
"some say it's what's on the inside, counts."
[/font][/center]
LIKES.
+Peace
+Calm
+Sleeping
+Wandering
+Long Coats
+Winter
+Soft fluffy things
DISLIKES.
-Warm Weather
-Fighting
-Training
-EVIL
-Effort
-Rash Decisions
-Crud/Rude People
STRENGTHS.
+Slacker
+Trained since he was 3
+Has amazing potential
WEAKNESSES.
-Has low work ethic
-Will protect those in need
-Lives by his past, not by the future
HABITS/QUIRKS.
+Always wears long coats
+Has a tendency to look stylish
+Is a charmer but he doesn't know it
FEARS.
-Repeating mistakes
-Being consumed by power
SECRETS.
=Killed his own master by accident
=Made a vow to never use his abilities unless to help others
HITMAN ABILITY.
When it comes to straight ability, Shiki has no real main attribute. He has been trained in just about every situation. He is fairly well with hand to hand combat. He actually tends to prefer it actually. However he also can play long distance. He is trained in Xio Lin, as well as other arts. He has also been trained in heavy gravity so his movements are faster than normal when he wants them to be and he can jump exceptionally high.
BOX ANIMAL.
l coniglietto di cuore;; The first stage of his box animal. The box animal, despite Shiki's strong abilities, is a bunny. Though most rabbits coats change colors, his stays the same white color all year long. In the first stage, Chii, is no bigger than normal size. The only difference between a normal rabbit and the box animal is the lightning flames sprouting from his ears and a red gemstone on his forehead. In this stage, Chii is mostly used to basically absorb attacks. It is more of a defense mechanism. The animal can literally eat attacks shot at Shiki. Be they flames.. or weapon.

Il coniglietto di cuore e bada a;; In this stage the form of Chii does not change. However, what this stage does for the creature is that he basically uses the energy of all both Shiki's Storm and Lightning flames to create a portal all most of the combined flames. Depending on what it is used for Shiki can both use this in battle and in normal moments. It has the ability to transport him anywhere if he sees it within his mind. It also has the ability to absorb others weapons and attacks, as well as the person he is fighting themselves to another area or a null void.

Il coniglietto di anima;; The final stage of Chii. During this stage, the form of Chii does change. The creature does not get any bigger, but instead, it combines all three of Shiki's flames. In this form the creature grows long white wings that give it the ability to fly. During this stage, Chii really has no attacking power. Instead, when Chii comes to this stage, Shiki is affected instead. Like his animal Shiki gains the ability to fly through all three of his flames. His main flame, Lightning forms his body giving him an almost armor like quality to sustain hits from other flames without him really having to deflect them. The rain flames give him the ability to fly in the air by forming at the bottom of his feet. And finally the storm flames form his hands. Unlike the rain flames, the storm flames are his main way of attack. This is why his Storm flames are the ones that are the most out of control, but because of his ring he can control them. He can shoot them like fireballs almost as well as combine them with the other flames that form around him. He can also bend them at will to his box weapons, depending on which one he uses.
BOX WEAPON.

I guanti di protezione;; The gloves of protection, which was originally named, I guanti di furia, the gloves of fury, are Shiki's means of hand to hand combat. Though he normally always wears white gloves that covers his hand to the start of the fingers, these gloves are also his means of fighting. When he activates his box, a mixture of all three flames form the gloves. Each giving the gloves a different quality. Lighting, gives the gloves a sparking power, much like Tsuna's X-gloves, it gives Shiki the ability to fly in the air using the sparks as his propellers, as well as allowing him to paralyze the opponent if he touches them with the flames. Storm, is one shiki prefers not to use. When the storm flames surround his gloves, and added feature comes to the gloves. Small silver spikes will form on the knuckles of his gloves. These flames are more for damaging the opponent rather than stalling them. When rain is used, the gloves obtain a silk like quality. Though it doesn't really do anything for Shiki in particular, it allows him to put his opponents in a nightmare or dream that he sees fit when he touches his opponent. Shiki has yet to try any of the flames in combination, though, he has thought of it if the need should arise.

Guanti di cerchio di magia;; This weapon is also centered around gloves. However, Shiki normally uses this for long range attacks. These gloves however are found in a box and the man normally does not wear them, since he prefers hand to hand combat. The style of the gloves are made almost like Tsuna's gloves in ring stage. They are pure white in color with a red crystal in the middle just like the stone on Chii's forehead. These gloves can use all three of Shiki's flames as well. When Shiki uses his lightning flames the gloves crystal will blink three times before turning a green color representing the flames. From the crystal, the gloves will obtain a magic like quality and produce two weapons for his use. Though they don't look like much, Shiki obtains two fan's during the lightning stage of the gloves. The fan's give him the ability to control lightning in the air and even make it. He normally uses them in an almost dance like quality. When Shiki uses the storm flames the gloves crystal will blink numerous times, since it is the hardest flame to control. When it is finished the crystal will become a darker shade of its normal red. From the crystal, a weapon does not form, instead a red light of storm flames comes from the crystal curving to the outside of his arms. These have the quality of the blade of a syphe in a way. Shiki will normally use the syphe like flames in defense to protect himself. However, if he would ever use them to attack, the flames would cut his opponents just as any blade would. He can also burn his opponent that way. When Shiki uses the rain flames the gloves crystal always only blinks once. This is because it is the easiest flame to control. The crystal will turn a blue color. From the crystal, headphones will form in Shiki's hands. When used, Shiki can hear exactly where every single water source is. With this information, using the headphones he can bend water to his will. This is normally used as a method to separate his opponents from himself, or as a means of escape. Shiki, has never been able to combine any of the flames using these gloves.
FULL PERSONALITY.

Shiki is in one word, lazy. Though the man is rather skilled he is simply not really on task with his abilities. Though the boy has been trained since birth to fight, in his own opinion, it isn't really at the top of his mind. He believes fighting has little worth unless you have a good reason to fight. To say, protect someone. He would rather just sit back and do nothing all day. Possibly just sleep in a tree.. or even a bench maybe.

Shiki is also a loner type. He isn't really the type of guy to go off looking for friends or people to interact with. Though he isn't rude to people who talk to him, he is just more comfortable when he is by himself. This is really something that the boy grew up with. When he was younger there was only one other person that ever talked to him, so he isn't really the type for people to hang around. That doesn't mean however, he can't work on teams and such. He is actually a really good team player, though his personality would state otherwise.

Shiki is also very within his own self. He doesn't really talk about himself at all. He would rather entire conversations be about others than just himself. If at any point anyone brings up his past they have hit a sour point. Shiki doesn't like thinking about his past. He actually hates it very much. He is constantly thinking about it, and when people bring it up it makes things worse.

Shiki has an aloof sort of personality. No matter what people say to him or what happens in his tiny world, nothing seems to ever get to the man. He constantly lives in a fantasy world that nothing can ever bother him. Because of this personality Shiki is always smiling. The real reason he acts as such, however, is that Shiki is really trying to cover up another side of him. The side that Shiki used to kill his master.

Shiki has a secret side to him. This is the part of his past that he never wants to let out. When Shiki was young, his personality went through many twists and turns, and because of revenge, he became consumed by hatred and power. He became a killing machine. Though Shiki has done everything to keep this side of him gone, it will pop up every once in a while, when someone he cares about is injured. Or when he is fighting for to long, for the wrong reasons. It is very hard, even know for the blonde to keep this side from getting out to hurt anyone else.
[/font]
"history starts now, or when i was born."
[/font][/center]
PARENTS.
Rimy Hakaru, 22, murdered
Alphonse Hakaru, 23, murdered
SIBLINGS.
Daisuke Hakaru, 5, murdered
BIRTHPLACE.
Somewhere near Sicily
SIGNIFICANT OTHERS.
Nora, age unknown, tutor, murdered
CHILDREN.
n/a
PETS.
n/a
FULL HISTORY.

When Shiki was growing up, the world of the mafia was all around him. He was constantly put in danger as a kid, he and his brother. His brother Daisuke and himself being twins. His mother and father, weren't particularly in the mafia business, but the family did whatever they could to survive during the mafia times. Shiki, learned how to fend for himself and for Daisuke at an early age. Where Shiki had been the type to pick up things quick, Daisuke could never really get the hang of things. Shiki took over the responsibility for him.

When Shiki and Daisuke where five, perhaps about a month after their birthday, their parents got in something to deep. The small mafia family his parents had been working for, took them as a threat. All of them. So, the mafia decided that they had to go, the quickest way, was death. Shiki's family, was fighters, but none of them had things like rings or box's. Shiki's mother and father, were murdered in cold blood in front of the twins. Though, they had been hiding when it happened. It broke Shiki, and Daisuke, he would never be the same.

The two fled into the forest. They ran until they couldn't no more. It wasn't enough though, the mafia wanted to make sure everyone was dead. As they hid, something caught Shiki's attention. They thought there was only one son. Because, he and Daisuke looked so much alike, they hadn't realized that there were two of them. Shiki looked down then at his brother. One of them would die. He knew that truth. He went to look back at Daisuke but his brother wasn't in sight. Shiki turned back around. He had walked right out to them crying. They didn't stop. Shiki watched as his brother was empailed with a flaming arrow.

Shiki wanted to cry out but nothing came from his mouth. Something struck within him at the loss of his twin. Without realizing it he had fainted because of the strong bond the two had shared. He wouldn't wake up till a few hours later. When he did, he would find his brother's and his parents bodies being burned in a pile, as if they were nothing more than trash. There were only two people there watching the bonfire. Shiki didn't know what happened before he pulled a switchblade from his pocket.

He dropped down and slashed open the necks of the two unsuspecting men. Shiki's face was lined with tears as he watched the fire roar with his families bodies burning inside. He didn't care about the horrible smell it made or that he was probably going to die too now. He turned when he heard a noise. He struck out with his knife, but someone caught his wrist twisting it behind his back and causing him to drop the blade. He cried out in soft pain as he was forced to the ground.

That was when a soft voice reached his ears. "You must be very scared. Loosing your family at such a young age." a man's voice spoke. At the sound of it, for some reason the boy couldn't understand, his body relaxed under the pressure the man put on it to hold him down. He didn't know why his body was reacting in such a way. He listened to the man as he proclaimed himself to be Nora. Shiki just wished for death at that point.

"Let me help you. I will teach you the ways of the mafia, but I will not teach you the way to kill, only the way to survive." he said. He released Shiki and slowly stood back up. The blonde still had tears running down his face. He got up slowly. He looked at the bonfire one last time before turning to Nora and following him off into the night. He was leaving everything behind.

For most of his life, Nora put him into training. He trained him everywhere, prepared him for any situation. Gave him a purpose in life again. To protect others that became close to him, and to protect those that needed help. Because of the many places they went, Shiki got into the habit of wearing long coats and things like that. No matter where he went, a coat was present with him.

He grew up learning that he possessed the lightning flame, and how other flames came along after that. Eventually he would receive Chii, and the gloves that he uses in the future from Nora. It would be when the boy was 20, that an accident happened. The duo got caught up in a battle they couldn't run from. Shiki fought with grace and was taking down many guards, Nora was dealing with the leader of the group. Shiki looked back from his own battle to see his own master fall back from a mist flamed attack.

The man was preparing something and Shiki couldn't watch his master fall. He moved in front of the attack taking it head on. Instead of a direct attack the flames seared through him and stuck within his heart. The mist flames where constantly moving through him until feelings of rage and revenge consumed his heart. The mist flames moved over his body, a part of him now. Chii, who had been out instantly changed. The rabbit's eyes and gem on its forehead a dark purple color now. Shiki's gloves, changed to the purple color as well.

He no longer had any sense of what was going on. The man smirked. He liked the idea of making the student kill the master. Without Shiki's gloves turning the same red storm flames came from his gloves as syphe's. The flames seemed contaminated though. They had dots of purple flames in them. It was this that would cause Shiki to attack and eventually murder Nora. When it was over, Shiki collapsed to the ground, all memories of being controlled gone from his mind.

When the boy would wake, he would only think that he had killed Nora of his own hate and power lust. Shiki cried that night and gave Nora a pyre funeral just like his parents. As he stood there his memory flashed to him as a boy watching the same things happened again. Shiki left the next day and came to Japan, where he and Nora had been headed. Shiki just moved. Eventually he would get to Namimori...
[/font]
"it's time to meet the puppeteer."
[/font][/center]
YOUR NAME.
NEME
YOUR AGE.
18
YEARS OF EXPERIENCE.
4-5 years
CONTACT INFO.
pm my Neme account. (on there more often)
SECRET PHRASE.
Not telling
MEMBER TITLE.
Blue
Winter
ANYTHING ELSE.
Wow..long history.
ROLEPLAY SAMPLE.
Check the others
[/font]
---
this application template was made by abi, also known as
buildings and mountains. on CAUTION! the lyrics for the
dividers are from the lovely song bruises by jack's mannequin.
[/font][/center]