Post by HISOKA KYOSHI on Sept 9, 2010 15:09:25 GMT -5
Hisoka Kyoshi
[/color][/font]
"if there was some way I could erase,
the time it took and the years i spent,
i would never erase the moment you took,
my very breath away."[/font]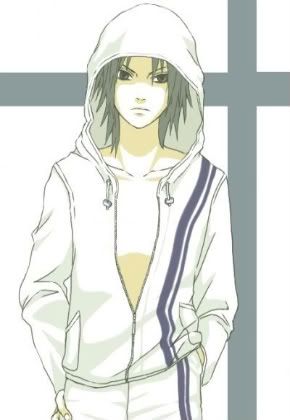 [/center]
"this is what the birth certificate says. the basics, of course."
[/font][/center]
FULL NAME.
Hisoka Kyoshi
NICKNAMES.
Hiso;; This is the name that which almost everyone calls him. It is one of those obvious names that his teammates and just about everyone else that doesn't want to call him by his first name call him.

Kyo;; This is a nickname only Kitsu-chan can call Hisoka. If any one else tries to you better stay our of Hisoka's way because you will probably more than likely get punched really hard.

Raven;; This is a more personal nickname to Hisoka. It was the name his parents called him by when he was younger. The nickname symbolizes his jet black hair.
AGE.
18
DATE OF BIRTH.
December 17
SEXUAL ORIENTATION.
Bi-Curious;; Hisoka is often not sure what he wants in a relationship, so he is rather open with what he wants. Women are appealing to him.. as well as a.. lets just say a certain blonde.
MEMBER GROUP.
Stella Family
JOB.
Stella Cloud Guardian
CANON OR ORIGNAL.
Canon
[/font]
"i'm sexy, i'm cute. the appearance is everything."
[/font][/center]
HEIGHT.
5'6
WEIGHT.
52.2 kg
BODY TYPE.
Scrawny;; Hisoka's first appearance to others is that he is a bit scrawny. He is very thin and many people take that for granted about him. He does however use his small size to his advantage. Though his body appears flimsy he is actually packed with muscle that is usually hidden by his baggy clothes or otherwise shown on his chest, when he shows it off
HAIR COLOR.
Onyx Black
EYE COLOR.
Onyx Black;; Hisoka's normal eye color.

Scarlet Red;; This is Hisoka's other eye color. When he is disheartened or any particularly strong mood comes to Hisoka his eyes will turn this dark red color. His mood doesn't have to be particular such as hate, love, passion, etc. As long as it is strong his eyes will change. It is a rather bad giveaway of his emotions. The main reason for his eyes is because of the experimentation that was done to him as a kid.
FLAME TYPE.
Cloud Flames;; Main Flame
Lighting Flame;; Sub Flame
RING.
Stella Cloud Ring;; This is the main ring he is given by the family for being the guardian of cloud. He wears it on his right hand middle finger and it is attached by a metal chain to a metal band he wears on his wrist.

The Xavior Ring;; A ring given to him by his father. It isn't all that fancy and has a lot of rust on the rather plain silver ring but it tends to increase his cloud flames a bit along with his stella ring. He wears it on his right hand pointing finger. It is also attached by chain to his metal band.

The Mystery Ring;; Not much is known about this ring. Hisoka found it during his experimentation days. It his a light golden color and boosts Hisoka's lightning flames. He wears it on his right hand ring finger. It is the last ring attached by chain to his metal band.
DISTINGUISHING FEATURES.
Red Eyes;; The first thing that you notice about Hisoka is his red eyes. They tend to change from there onyx black to a fiery Scarlet red when his emotions are strong about something.

Battle/Experimentation Scars;; Hisoka also has numerous scars that form all around his body. He normally doesn't show people but when his shirt or any piece of his clothing is removed numerous scars are seen all over his body. The largest however is one on his back which trails from his right shoulder all the way down to his left hip and looks almost like someone cut him with a rather large blade.
PLAY BY.
Sasuke Uchiha;; Naruto
[/font]
"some say it's what's on the inside, counts."
[/font][/center]
LIKES.


Quiet >> Hisoka likes the quiet really more than any one else can probably like it. He normally uses the quiet to meditate/calm himself or just to think.

Freedom >> Hisoka is the type that craves the feeling of being able to do things for himself. He really doesn't like when he is offered help and such.

Errands >> Hisoka is the type of person who doesn't like sitting still. He would rather be constantly sent on stupid errands than just sitting around doing nothing at all.

Wildlife >> Hisoka tends to use his free time outside. He isn't much of a indoors person and likes watching different creatures run and scurry about than sit inside.

Testing Others >> This is one of Hisoka's side habits. He will often times test others on his team with some random assignment or trial. Most of these are rather stupid or easy to accomplish but it keeps Hisoka busy.

Writing >> This is one of those hidden things. Hisoka usually in private will write a lot. There is no specific thing he will write about it changes with his mood. The only one who has ever seen him writing in his notebook is Kit.
DISLIKES.


Being Controlled >> This is one of Hisoka's big ones. He doesn't take lightly to people trying to tell him how to act or how to do this or that.

Groups >> Hisoka really isn't the type for group things. He doesn't work well with others so he tends to just work by himself or with Kit.

Distractions >> Hisoka hates being distracted. He will often times leave rooms with other people while he is trying to think. He is distracted easily so he tries to distance himself from it.

Being Ignored >> This is a big pet peeve of his. Many people tend to ignore him because of his strategic side. He likes to come up with a plan when many others just want to rush in.

Water >> This is something really stupid but Hisoka doesn't really like water all that much. When he was little he almost drowned so he tries to stay away from it at all possible.

Bullies >> The one thing Hisoka can't stand is when someone bothers Kit. He may act like the blonde is a total nuisance but he is really close to the boy and would gladly end any person that gave him trouble without a second blink.
STRENGTHS.


Intellegence >> The first thing that makes Hisoka a asset is his intelligence. He is the type of person who catches on to others easily and can find small loophole in people's attacks.

Calm Demeanor >> Hisoka has the ability to calm himself and keep a clear head in just about every situation. It comes in handy when he needs a plan really quick.

War Knowledge >> His knowledge of different attacks and ways of fighting help out as well. As a child he grew up with wars so he knows a little more about them than others.
WEAKNESSES.


Anger Issues >> While Hisoka has his calm side he also has a few anger issues. He hates when anyone on his side is hurt or such. It is this point that Hisoka will attack with a vengence.

Fear of Failure >> This side of Hisoka was mostly beat into him as a child. Because he had to survive for so long under the experiments and the war he was never to fail at anything. When he thinks he is going to fail his body sort of shuts down on him.

Physical Strength >> Whereas Hisoka does have muscle he is not that much of a fighter. He is more of an intelligence hitman than anything. His strongest weakness is probably his body itself.

HABITS/QUIRKS.


Rubs his Temples >> Hisoka tends to rub his temples when he is upset or confused about something. It has gotten to the point now that he doesn't know he is doing it anymore.

Rubs his Hair >> Hisoka normally rubs his hand through his black locks when he is thinking deeply into his own thoughts.

Journal >> At the end of each day Hisoka tends to write in his person journal about what has happened that day. Of course this a constant habit of his but he doesn't like telling people about it.

FEARS.


Losing Kit >> This is probably his biggest fear. Kit is the closest thing to the boy and if he lost him Hisoka wouldn't really know what to do with himself anymore.

Drowning >> Ever since he was a kid water has been a big problem with him. He doesn't like it much at all since the bad experience when he was a kid over him almost drowning.

SECRETS.


Relationships >> This is one of the most private secrets of Hisoka. In his heart of hearts he is sort of in love with Kitsune, but he isn't really sure what he should do about it so he keeps his mouth shut and pretends that nothing is wrong and he is completely fine with everything.

Killer >> The one thing Hisoka hasn't told anybody including kit, is that when he was enslaved and experimented on, was that he was forced to kill other kids his own age. It wasn't something that he had a choice in but he still holds it over his own head.

HITMAN ABILITY.
Hisoka is a strategist more than a fighter. Though when it comes to fighting Hisoka is better at short range than anything. When he was younger his parents taught him how to use throwing knives as weapons. He doesn't use throwing knives now though. He prefers using a sword instead. But as stated before he is more of a strategist than a hand to hand combat fighter.
BOX ANIMAL.
Il corvo di Ombre >>

Il corvo di Ombre, or rather Akaru, is a raven that takes on a different form when he is summoned by his box. Normally he is small and the normal size of a small raven. When he is summoned he grows in size and becomes large enough for Hisoka to ride him. He doesn't really have any attacks in particular and is mostly used for Hiso's strategies.

BOX WEAPON.

Il mulino a vento di Ombre >>

This is the box that contains Hisoka's sword. It has the potential of using both of his flames. Hisoka can use both flames on his sword and they both have a different affect on the sword. His cloud flames form like a second skin around his sword and add an extra 2 inches to the sword that is made of completely flames. If you are struck with them it is just as damaging as the sword itself. The lightning flames are a little different. They deal with a long range attack. Much like the form of lightning itself, the flames spiral around hisoka's sword. It allows him to store up his flames before basically shooting them into the air. When he does this a lightning storm basically comes down and strikes the area of the fight and go after his opponents. This takes 4 posts to recharge and takes a lot of energy to do again.


Gli occhi di Ombra >>

This is an upgrade box for Hisoka only. It contains a food pill. It may look like it is nothing at first. However, once Hisoka eats the pill a strange mark will move up the side of his shoulder to his eye. When it reaches his eye it changes it to a yellow color and becomes slit like. When this occurs Hisoka's vision is increased greatly. By using this pill his ability to trace others attacks and weapons increases. By using this he can, if he watches long enough, copy someone else's attack perfectly without fault.
FULL PERSONALITY.
>>Over Confident<<

Hisoka is a really over confident person. He isn't the type to flaunt his power, no. The kind of over confidence he has is in that of his intelligence. Of all the people in the Stella family he believes him self to be the most knowledgeable. He sees himself as one the best aides to the stella family because of his vast knowledge and his ability to see through opponents attacks and weapons. Even with this little bit Hisoka has that kind of air about him that just says back off.

>>Laid Back<<

Hisoka with his over confidence is also a rather laid back person. He isn't the type to be bouncing around the place and being hectic. However, he is the type to always have something to do. He doesn't do anything that doesn't have a purpose behind him so if you want to play a game or do something really unessential, don't ask him. He likes to be doing something every second of his life however, he will do it calmly without any strife or grief.

>>Silent<<

Hisoka isn't that much of a talker. He will when he needs to of course but otherwise the boy usually likes the silence. He would rather have someone else talking the entire day then say one thing about himself. He doesn't mind listening to others, but after a while he can get rather irritated with people. The only one he has never yelled at for talking to much is Kitsune, and that is saying something in itself.

>>Hidden Persona<<

Hisoka has basically a wall around himself. He doesn't let anything in as well as anything out. This wall was formed when he was a kid and has been broken down as of yet. The one to come closest to braking it is Kitsune, who sees a lot more of Hisoka than everyone else. In fact Kitsune is the only one to have ever heard Hisoka laugh. Underneath his shell... actually, I'll make you wait and find out what is underneath his shell. That is if anyone can actually brake it.
[/font]
"history starts now, or when i was born."
[/font][/center]
PARENTS.
Ayami Kyoshi (mother/Deceased)
Saka Kyoshi (Father/Deceased)
SIBLINGS.
n/a
BIRTHPLACE.
unknowns
SIGNIFICANT OTHERS.
Kitsune Ayumu (almost brother/potential love interest)
CHILDREN.
n/a
PETS.
Akaru;; A small raven that Hisoka keeps with him at all times. It is normally perched on his shoulder or of getting information for the boy. He also uses Akaru for his box animal and attacks.
FULL HISTORY.

Hisoka was born to Saka and Ayami Kyoshi, two hitman, on December 17. It wasn't really all that much of a big deal to the two. As a child growing up the family was constantly moving. Both of Hisoka's parents were hitman for hire which meant they were in just about every war no matter who it was. This was the life that Hisoka grew up with.

When Hisoka hit the age of 6 his parents started teaching him on how to be a hitman. His parents taught him about the wars and what they did for a living. Soon enough Hisoka became apart of his parents work. His weapon? Throwing knives. His father had taught him how to use them, so the boy had stuck with it. It was around this time that Hisoka would have a terrible accident.

When the three of them were on a mission, Hisoka, had been alone, as a little kid he wasn't all that powerful. He was teamed up on. As he was basically captured the group was near a river. So the opposing side did the first thing that came to mind, drown Hisoka. Hisoka's head was forcibly pushed under water. Hisoka couldn't fight them and was to the point that he was going to faint now. It was then his mother and father came to the rescue. They killed the ones who had harmed Hisoka. Since then, Hisoka has never gotten near water again.

Things didn't get much better. When Hisoka turned 8 it happened again. This time, things would never be the same again. The current mission of his family had gone rather sour. His family and himself was captured. His parents were slaughtered in front of him. Hisoka the only reason he survived was because he was young, instead of killing him they kidnapped him. And took him away to a secret facility.

It would be here that the tests would start. Hisoka was strapped down poked with needles and given every single test under the sun. It drove the poor boy crazy. It hurt, many times Hisoka didn't get even the smallest brake during the tests. It was during this period of his life that he was broken down and shredded. For the longest time he was at a loss on who he was. He didn't really know anymore.

They tested many things on him and none of them really worked. It was however by chance that one of the experiments did. They had been doing eye research, being able to see better, a way into opponents attacks. Hisoka was of course, the one to be tested on. He was kept awake through the entire process strapped down with a gag in his mouth to stop his pleading screams of pain. It was many hours before they finally put Hisoka to sleep though he had gone through some intense pain.

The experiment worked. When Hisoka woke up his eyes were not their normal onyx black. They were a dark scarlet color. But they did not stay that color. Only when he was aroused by some emotion did they change. This was when they started to test the boy out. They put him up against others his age to fight. They didn't really give Hisoka any weapons but one knife. He was damaged really bad during the fights. It was how he got his many scars. One occasion the boy was almost killed being slashed across the back by a sword. Hisoka killed all of them though, and without a second thought.

It would be on his tenth birthday that things would change. He would be rescued from the "orphanage" that he was at. At the time Hisoka really had no idea of himself or who he really was. He would be taken under the wings of the stella family however. It was as he was leaving the facility that he had been at for so long that he would find a ring. He didn't know it then but later on he would use it for his flames he would develop.

When he was introduced to the Stella family, he was also introduced to Kitsune. It would be the spark of a long friendship, and partnership. Though, at the point in time, Hisoka really didn't care all that much about Kitsune, he was still a little shaky. Eventually however he warmed up to the boy though he hasn't completely shown him all of himself yet.

For the next 7 years Hisoka was trained by the Stella family in the ways of becoming a guardian. Hisoka didn't know that then but he trained. The boy soon found out that he was more of a strategist than an actual head on fighter. He preferred close range attacks with the sword instead of the knives he had used when he was young. Soon enough the Cloud and Lightning Flames came. He was getting better and better with his training when he found Akaru.

Instantly the two became close. Akaru eventually became Hisoka's box animal as well. The two were a perfect pair and worked well together. Not only that but Hisoka and Kitsune's friendship became stronger. It seemed that the Stella had made a good choice putting the two together. The two polar opposites were the perfect team.

When Hisoka's 17th birthday hit the two of them became the guardians of the tenth Stella boss. Hisoka becoming the cloud guardian, what gave that away, and Kitsune the sun guardian. Hisoka still holds his spot as the cloud guardian now on his 18th birthday. And he is still best friends and fellow guardian/teammate with Kitsune.

[/font]
"it's time to meet the puppeteer."
[/font][/center]
YOUR NAME.
Neme
YOUR AGE.
18
YEARS OF EXPERIENCE.
4-5
CONTACT INFO.
pm
SECRET PHRASE.
Hayato
MEMBER TITLE.
Kit's Raven
ANYTHING ELSE.
n/a
ROLEPLAY SAMPLE.
check out Kenjiro
[/font]
---
this application template was made by abi, also known as
buildings and mountains. on CAUTION! the lyrics for the
dividers are from the lovely song bruises by jack's mannequin.
[/font][/center]